Partyboys talk from the JW Bullentine board.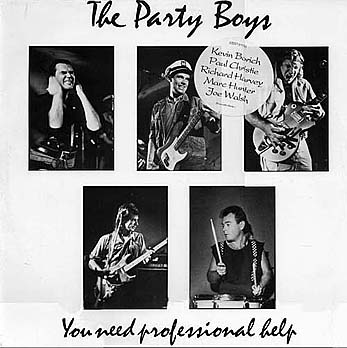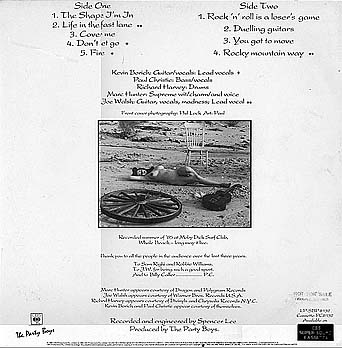 Klick on the photos if you want them bigger!
Andrew Felkel
Greetings from Australia. Have been a HUGE JW fan for a lot of
years - even got to meet him when he toured here in 1988 with a
local band called the Party Boys. I was thirteen at the time. He
was so cool - he signed a dozen albums (Eagles, solo and James Gang) and even let me play his guitar. It was fantastic.
Now enough of my warbling. I have a question I was hoping
someone out there could answer. As it turns out, I am also a big
TOTO fan. The Confessor lists Jeff and Mike Porcaro from TOTO
as musicians on the album. But it doesn't specifically say which
track(s) they played on. Can anyone help me? Thanks. Andrew.
Nysse Nyström
Welcome to the club, Australia. I have a vinyl record somewere
with the Party boys. A live album, the record is in bad condition
because I left it on the table and the sun damage it. The songs I
remember they play: Life in the fast lane, shape I'm in and Rocky
mountain way. I'm gonna look for it, I had forgot all about it. Nysse
Nysse Nyström
Andrew Felkel from Australia talked about the Party Boys and he
met Joe 1988 when the band were touring in Australia. Does anybody know anything about this band. All of a sudden I got a record with the band from a freind who worked at CBS records in the end of the eigthies. They only play covers except for Joes songs. The band is:
Joe Walsh Guitar/vocals/madness
Paul Christie Bass/vocals
Richard Harvey Drums
Marc Hunter Supreme wit/Charm/voice
Kevin Borich Guitar/vocals
The album is recorded live summer -85 at Moby Dick Surf Club, Whale Beach. And it also says: Thank you to all the people in the
audience over the last three years.I just wonder how long Joe have been with them. Nysse
Andrew Felkel
Andrew here again. Apart from the "live" album, Joe also recorded a
studio single with the Party Boys. Aparently Joe had a house in Sydney and there was also talk that he was gonna stay in Australia for good (perhaps wishfull thinking on our behalf!). But what I think it was all about was just being an opportunity for Joe to get away from it all, have a bit of a holiday and play some pretty casual low key gigs. From what I understand he did two or three tours with the Boys - though because of my age while I was able to meet Joe before a gig in Melbourne I wasn't actually able to stay and watch him play (DOH!). That of course was remedied on the HFO tour when I got to see the guys not once, not twice, but thrice!